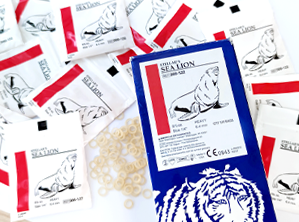 American Orthodontics is proud to have our elastics and elastic chain be consistently recognized by Orthotown Magazine's Townie Choice Awards® as the preferred choice among orthodontists. Orthotown is a leading trade magazine created by orthodontists for orthodontists, and the Townie Choice Awards represent product excellence in the industry.
• Proprietary manufacturing results in industry-leading quality
• Consistent pulling forces for reliable results
• Top quality latex tubing with exacting dimensions
American Orthodontics offers our most widely used sizes of prepackaged elastics in Wildlife Series patient packs which feature endangered and threatened animals from all over the world. These patient packs appeal to patients of all ages, especially those with a concern for ecological issues. By faithfully wearing their elastics, patients can feel they are doing their part in preserving and protecting these animals. This additional incentive may be just the motivator to get patients to wear their rubber bands. And showing that you care about the environment is a great way to promote your practice.