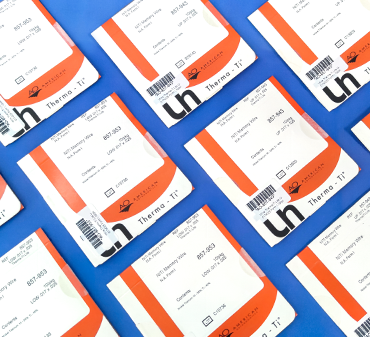 Key Features
Dimpled (Permanent Centerline)
The distinct upper and lower gable bends anchor the arch wire between the central incisors, preventing the wire from shifting and springing free from the buccal tubes. This unique feature minimizes emergencies and prevents asymmetry problems. It also eliminates the need for time-consuming cinch-back bends.
Gold Coated
Coated with 24 karat gold, these Force I arches blend tastefully with our "Forever Gold" brackets, with little compromise in function. Designed specifically to help you meet the needs of patients who prefer aesthetic appliances.
Reverse Curve of Spee
Our reverse curve arches are recommended for bite opening/closing and to correct curve of Spee irregularities. The rectangular arches are specifically designed for "low maintenance" space closure of extraction spaces. They act three-dimensionally to counteract unwanted tooth movement caused by closing chain.
Reverse Curve of Spee – Straight Leg
This modified reverse curve arch has all of the features of our standard "RCS" arch, except that the molar "toe in" has been eliminated. The distal legs are straight in order to minimize excess distal-lingual rotation of molars. Additionally, the anterior segment has been widened slightly to minimize cuspid-to-cuspid constriction. It's an excellent choice when molar tip-back bends are required to provide additional anchorage.
Straight Length
These 7 inch (17.5 cm) straight lengths of super-elastic Force I wire can be used to create sectional wires and special auxiliaries. Its high resiliency requires considerable over-bending to achieve the desired form.
Spools
Superelastic Force I nickel titanium available in 15 foot (14.6m) spools.