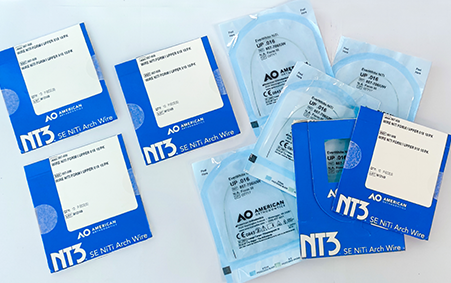 NT3 Nickle Titanium Arch Wire
American Orthodontics' NT3 Nickel Titanium Arch Wire is the latest in AO's extensive arch wire line. Manufactured at AO's state-of-the-art manufacturing facility in Sheboygan, Wisconsin, this high-quality wire delivers exceptional superelasticity, shape memory, and springback for precise control and predictable results.
Available arch form options include VLP* Arch Form, Natural Arch Form I, and Natural Arch Form III**.
• Manufactured using premium Japanese NiTi material
• Highly resistant to permanent deformation
• Polished surface finish
• Consistent loading and unloading forces
• Thoroughly tested to ensure consistent forces between lots
• Sterilizable packaging options
• Pre-loaded stops and dimple options
• 10 per package